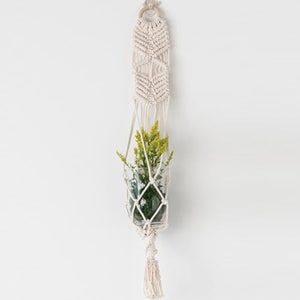 Agave Plant Hanger
Regular price $45.00 Sale
DESCRIPTION:
Made to order, the AGAVE is a hand knotted macramé plant hanger made with 100% natural cotton on a 3.25 inch wood ring.
DIMENSIONS:
Length:  28 inches
**Dimensions are an approximate measurement taken at the widest and longest points
This macramé plant hanger is made to order.  Please allow 1-3 weeks from purchase date.
Made to order items are replicated as closely as possible to the original.  Please keep in mind that due to each piece being hand made and unique, there may be slight variations.
For specific requests regarding length or other details, please email:  Melissa@drifterandbloom.com 
*For indoor use only, pot and plant not included